English Language Learners (ELL)

Why Does Our District Need an ELL Policy - Offers three common scenarios with responses regarding the need to create policy surrounding ELL students.

WIDA MDE has adopted language development standards for ELL students. This site has links to the standards, the Can Do descriptors, Model Performance standards, Rubrics, and many more resources.

W-APT Screener Use your district login to download screener materials in the appropriate grade band to screen students for ELL placement.

ACCESS for ELL's This assessment must be administered by a trained, certified test administrator. Use your district login, then request a personal log-in to the training site to become certified. Students identified for ELL services MUST be administered the ACCESS for ELL's each Spring in order to show growth on the language development standards. This includes ALL students who did not receive a score of a 5 in any sub-area (reading, listening, speaking, and/or writing) or as a composite score, even if the parents refused ELL services or the student was an exchange student.
This is the ELL Identification Process: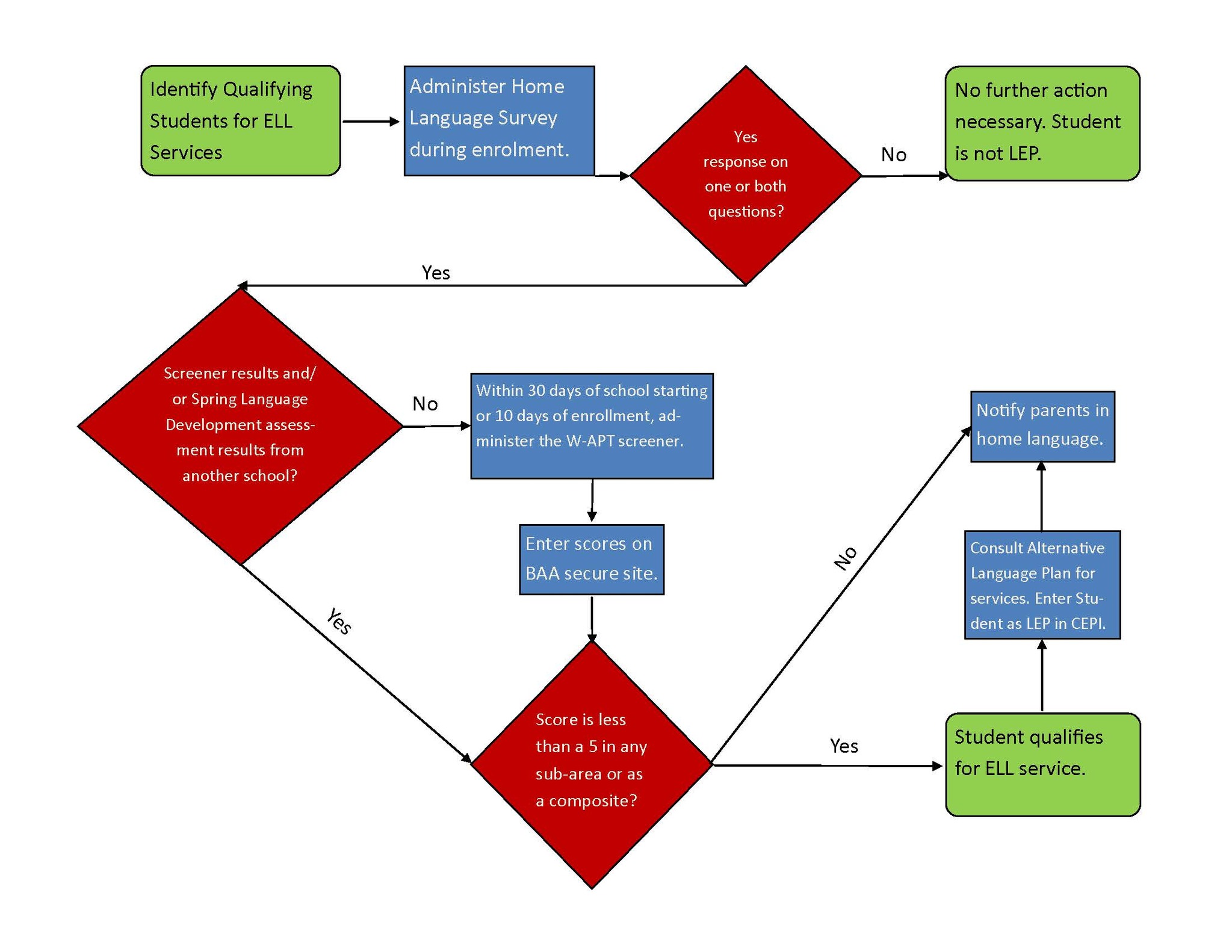 Are You Following Federal Laws and State Guidelines for Determining Who Receives ELL Services? This is a graphic representation of the ELL identification process with references to the Federal Law behind the process.

MDE English Learner Program Entrance and Exit Protocol The Office of Field Services updated this guide in 2013 to help districts have a common set of protocols to meet Federal requirements pertaining to ELL students.
English Language Learners (ELL)
Sheltered Instruction Observation Protocol (SIOP) Resources:

SIOP Home information about SIOP - explanation and research

ELL and SIOP Toolbox website created by Erica Hilliker of Godfrey-Lee that includes resources for the various SIOP components
RESOURCES:

MDE ELL Testing Site with links to screener and testing information

Crafting a Lau Plan Maine Department of Education outlines how to craft an equal access plan for ELL students

WIDA's Can Do Descriptors a description of what students can do in listening, reading, writing and speaking by grade level cluster
LEGAL REFERENCES:

Title VI of the Civil Rights Act of 1964

ESEA, the No Child Left Behind Act of 2001, Title III "Language Instruction for Limited English Proficient and Immigrant Students"

Supreme Court - Lau v. Nichols (1974)

Fifth Circuit Court - Castañeda v. Pickard (1981)

Office for Civil Rights - Enforcement Policy of 1991